Beautiful Bounty
Beautiful Bounty
Fill your holiday table with Inland Northwest-made bread, beer, cheese, charcuterie and more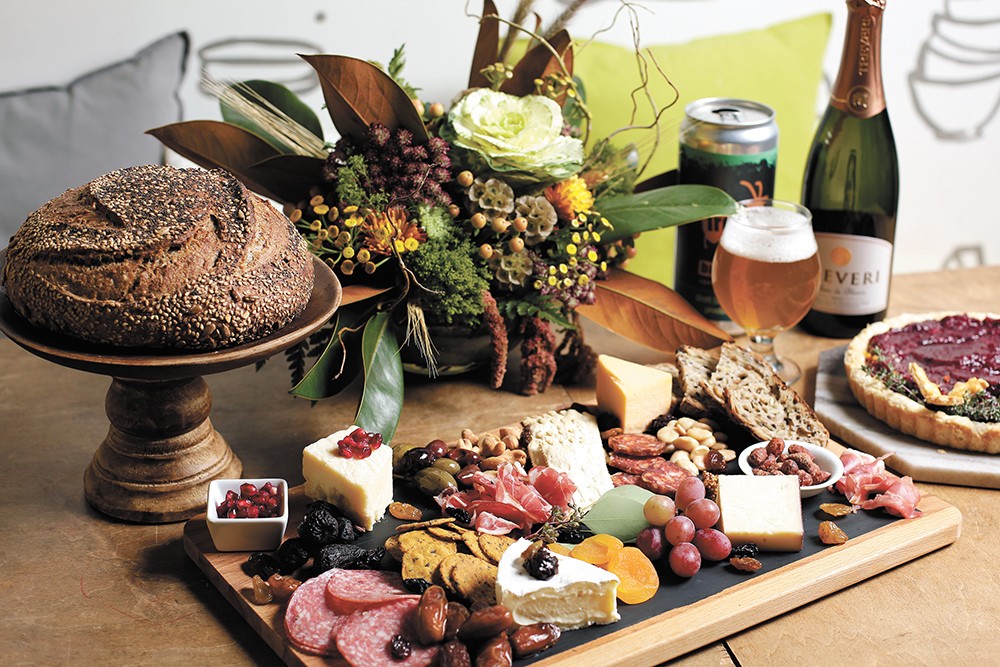 As you gather with friends and family this holiday season, let the agricultural bounty of our region speak for itself. Bringing together a collection of locally sourced and made products to your dinner table — those suggested here and many more — is much more than a great "humble brag" to out-of-towners unfamiliar with the Inland Northwest's many quality producers. It's also a way to honor the truest roots of holiday celebrations: sharing food lovingly made, reflecting on all that we're grateful for and appreciating this place we call home.

CHEESE

For families with any number of Cougar alumni (or even none), there's little doubt that someone will bring along a tin of the famously delicious COUGAR GOLD CHEESE to share. The world-famous cheese — a rich white cheddar made at the Washington State University Creamery in Pullman — is what some of the best queso dips, mac and charcuterie boards are made of. Aged for just over a year before selling fast anywhere it's retailed, Cougar Gold keeps getting better with age, becoming more crumbly and sharp the longer it sits. While the WSU Spokane Bookie is sold out until January, the store does have a couple other flavors ($29/each): the American-style natural cheddar and the Viking, a semi-soft cheese comparable to Monterey Jack. All flavors, including the Gold, can also be ordered online for $22 each, plus shipping, at cougarcheese.wsu.edu. Local customers can also try their luck at YOKE'S FRESH MARKET (all regional stores' delis stock it for $35) and ROSAUERS (the South Hill and Five Mile locations both have some as of this writing for $30).
WASHINGTON WINE

In a region where cups overfloweth with award-winning wines, one of the best and easiest last-minute ways to showcase the area's local producers is a bottle of wine. There are nearly limitless choices, but a few local winery go-tos include MARYHILL WINERY, which celebrates the first anniversary of its Kendall Yards tasting room with a party on Saturday, Nov. 17, and BARRISTER WINERY, with two downtown locations; a satellite tasting room and main winery.
For wines from a little further afield, NECTAR WINE & BEER owner Josh Wade suggests a few Central Washington wineries' products that are regularly stocked at his Kendall Yards store. Wade's first pick is Yakima-based Treveri Cellars' sparkling wine, made in the methode champenoise style (the last stage of fermentation happens in the bottle), and available as a white or rose starting at $12. Wade's pick for a red wine that pairs well with big holiday dinners is Renegade Wine Co.'s pinot noir ($23). He also recommends Col Solare Winery's cabernet sauvignon ($60). "This is the 20th anniversary of this wine. It is always a crowd favorite and consistently scores 94 points and above by wine critics and magazines," he notes.