Mammoth Proportions
Mammoth Proportions
A massive touring exhibit at the MAC highlights our region's connections to the iconic beasts of the most recent Ice Age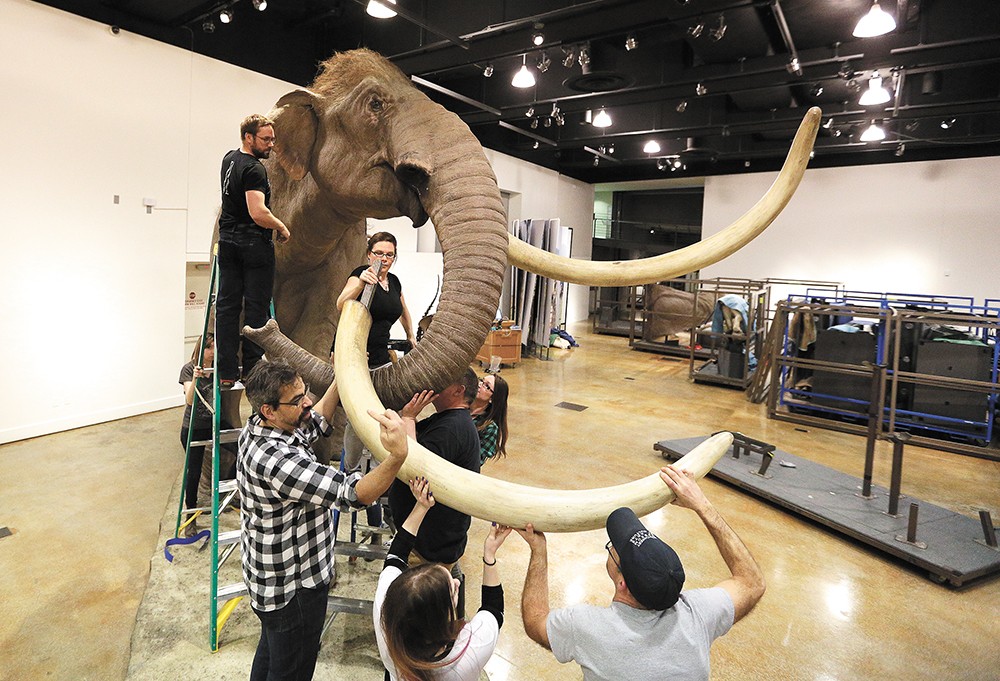 Ghosts of the ancient past loom over the exhibit halls of the Northwest Museum of Arts and Culture, casting their massive shadows across the concrete floor.
Standing on hind legs, a roaring bear towers 12 feet — its actual size — above visitors as they enter Mammoths and Mastodons: Titans of the Ice Age, the newly arrived blockbuster exhibit from Chicago's Field Museum of Natural History, here through May 7.
Once inside the MAC's cavernous galleries, visitors' skin might prickle, just as our human ancestors' would have, as they sense being watched from above. A snarling smilodon — perhaps better known as the saber-toothed cat — stealthily stalks its prey from atop a rocky perch. By sheer size, though, the king of these Ice Age beasts is the lumbering Columbian mammoth, whose footfalls and trumpet calls reverberated across the Inland Northwest's fields and forests millions to tens of thousands of years ago. Guests can marvel at its massiveness as they stand beneath a fully fleshed-out, to-scale model, one of many exhibit centerpieces.
One of the largest traveling exhibits, at 8,500 square feet, to ever come to the MAC, Titans of the Ice Age brings global natural history of the Pleistocene era full circle as it highlights how major fossil discoveries from around the world are connected to finds right here in the Inland Northwest.