Ascending Artist: Marina Gulova
Ascending Artist: Marina Gulova
A young artist designs for the Spokane Symphony by day, and paints tiny artworks by night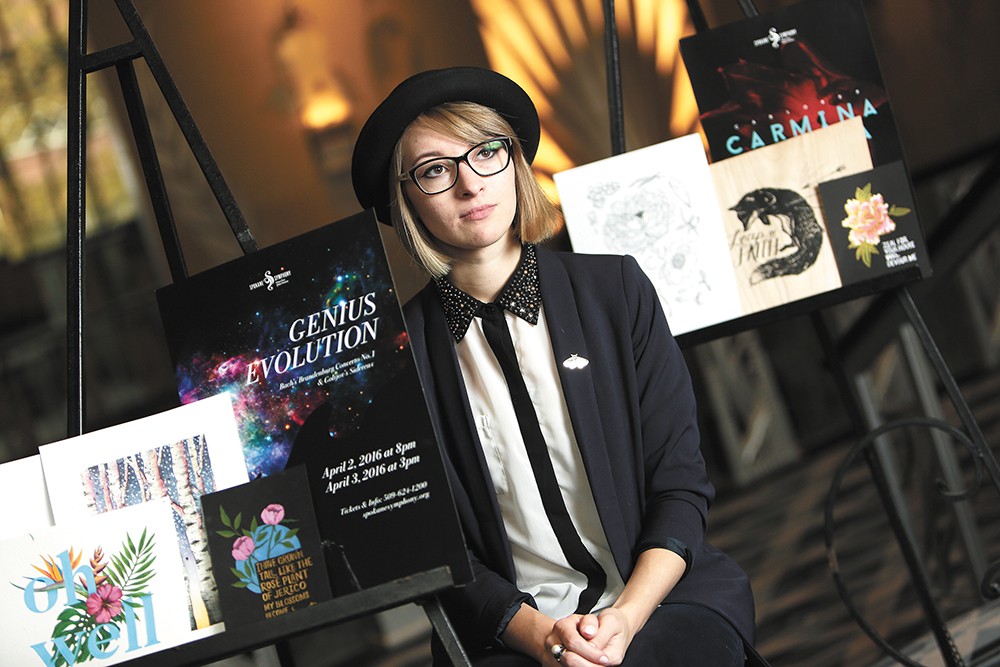 There are always words.
Sweeping serifs and ribbons of text flow across Marina Gulova's creations. Letters float among the stars of inky, indigo galaxies; blocky text is superimposed atop vivid, tropical botanicals.
"I like to use words in my art a lot — it grounds the piece," says the 22-year-old Spokane artist, who shares her work on Instagram and Facebook under the handle @tenthousandmoths.
Sometimes, there is also gold. Sparkling and shining when the light hits just right, Gulova's second favorite artistic signature is to add these metallic embellishments; as the outlines of a flower, or gold scales on a slithering snake.
A recent graduate of Eastern Washington University's visual communication design program, Gulova works as the marketing coordinator for the Spokane Symphony by day, designing concert posters and other promotional materials for the orchestra. By night, Gulova draws and paints at the desk in her bedroom.
"The way I make most art now personally is, I just need to," she says. "Sometimes staring at a computer screen day in and day out gets to you a little bit, and I just have to paint and draw flowers. I like doing small works."