Naked Truths
Naked Truths
Spokane artist Kate Vita painted a series of unembellished, emotionally honest portraits of her female peers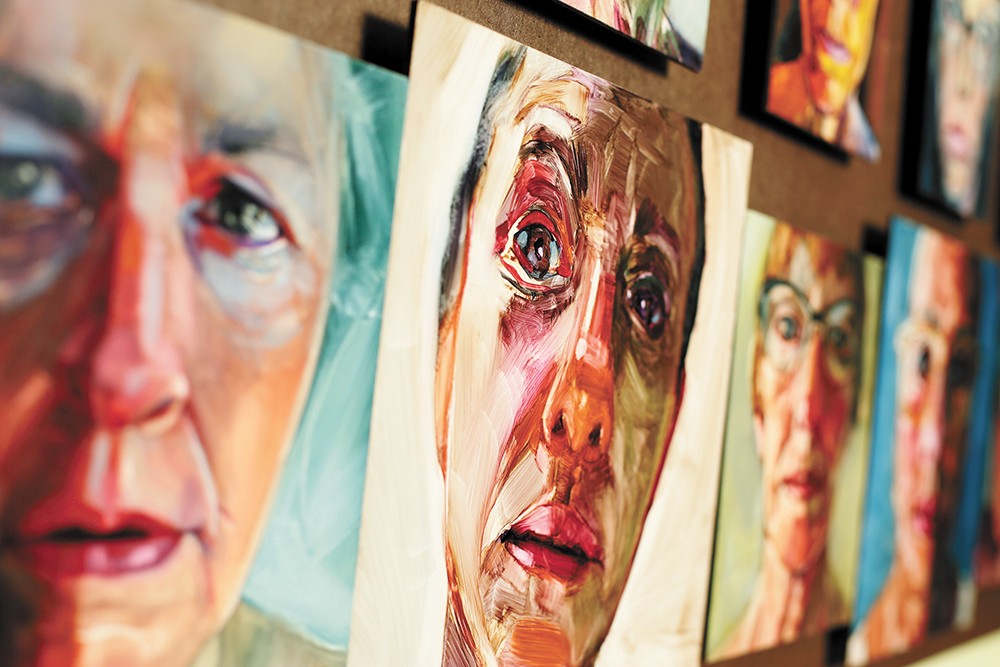 Filled with time-lapse videos of her daily painting practice, a scroll through Spokane artist Kate Vita's social media feed is a mesmerizing and meditative experience.
Beyond the awe of seeing Vita's paintings come to life on canvas in just 60 seconds (the process actually takes about two hours) is the way she begins each piece: upside down.
"Painting upside down is a simple student exercise to get you out of painting what you think you know," Vita explains from her historic South Hill home.
"It's so easy to draw what you know as a shape for an eye or nose — you get into this automatic mode. [Upside down] is a great way to break out of that and see what is really going on."
Vita formally studied art and illustration at the ArtCenter College of Design outside of Los Angeles, and worked as an artist for the following two decades on several animated TV series, including Ren & Stimpy and Duckman.
Most of that work was done digitally, which meant the artist found herself straying further away from her roots painting on a physical canvas. Realizing this, she made a conscious decision in 2015 to pick up a paintbrush again, with the goal of completing a small study every day.
"In order to paint again after a long hiatus, I had to overcome my own self-expectation to allow myself to make messes and not be very good," Vita recalls.
Four years later, Vita has completed an evocative and powerful body of work for a solo show at the esteemed Kolva-Sullivan Gallery in downtown Spokane. Naked opens this Friday and remains on display through May. The series of about 60 small portraits feature the faces of Vita's female friends and were based on makeup-free, unsmiling selfies she asked them to take and send her.
Many of the women, most in or past their 50s, had never even taken a selfie before.
"When selfies started it was around the same time we started not liking seeing photos of ourselves, so it was really challenging for a lot of my friends to look at themselves and be that vulnerable," she says.
"I didn't conceive that it would turn into what it has — a really powerful statement of being true and not creating this artifice and facade to show people, which is very refreshing."