Escape to the Shire
Escape to the Shire
A Spokane man's Tolkien-inspired "Hobbit House" is drawing curious visitors from across the region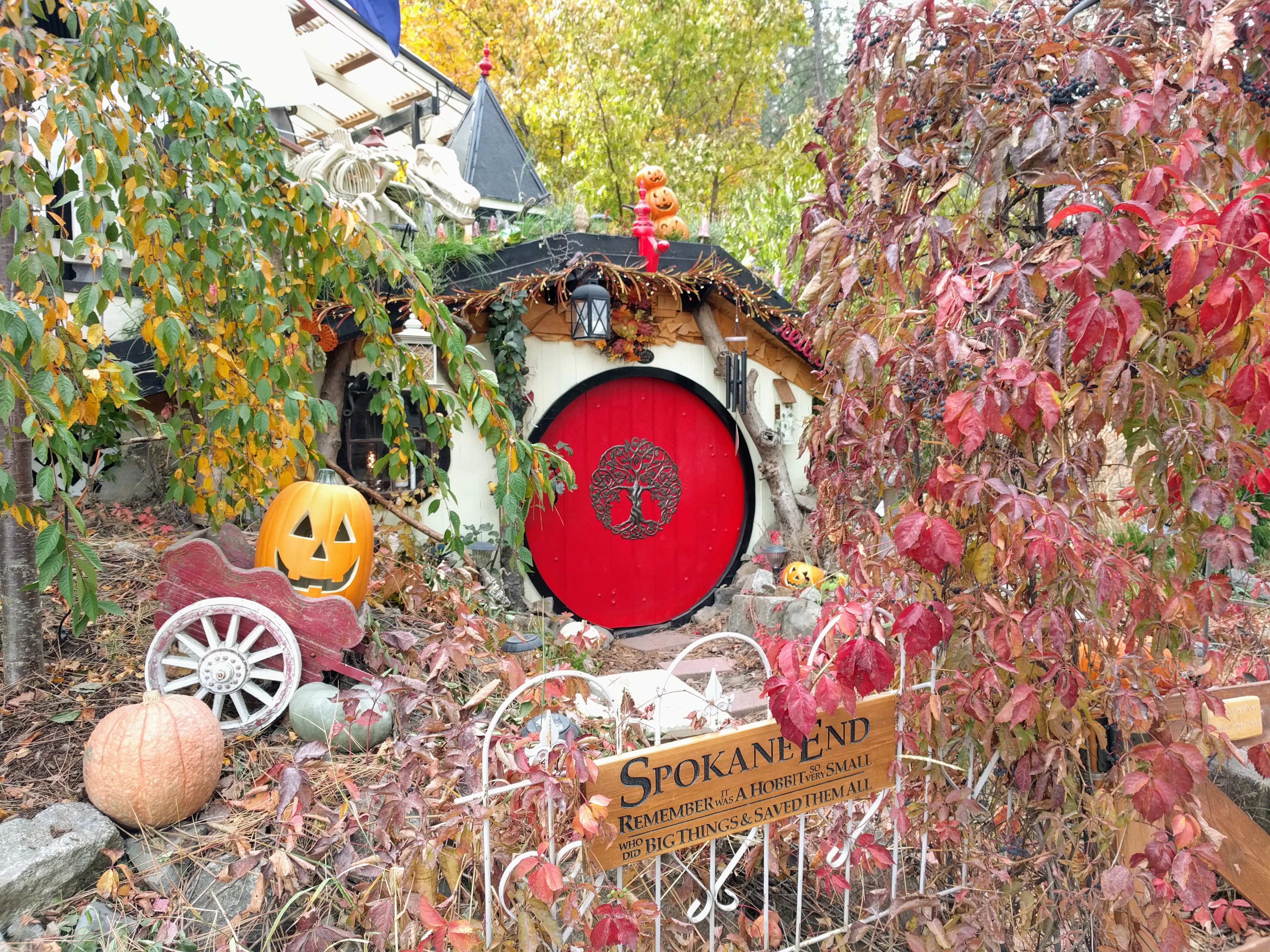 Bilbo Baggins lived in the hobbit hole called Bag End, a cozy home with a circular green door at the end of Bagshot Row in the Shire's Hobbiton.
Ryan Oelrich built Spokane End, his own hobbit hole, at the end of Second Avenue and on the actual edge of Spokane's city limits in the West Hills Neighborhood.
Oelrich's version of the Middle Earth dwelling is, even considering the physical differences between the race of men and diminutive hobbits, quite smaller than Bilbo's humble underhill abode. Its low, round door — friends must duck to enter — is painted a vibrant cherry red.
Measuring at around 70 square feet, Spokane End is a charming little addition to Oelrich's West Spokane property. He uses it as an office, reading nook, gathering place for friends and an otherwise calm escape from life's daily toll. A back door leads to a "secret" garden.
A lifelong fan of J.R.R. Tolkien's expansive fantasy worlds in The Hobbit and The Lord of the Rings trilogy, Oelrich long dreamed of building his own hobbit house. He collected building materials and decor for years before getting a final burst of inspiration after he and his partner this year visited the real-life Hobbiton in New Zealand, the movie set-turned-tourist-attraction visited by LOTR fans around the world.
"To be honest, I was at a time in my life when I needed a little magic, and was wrestling with the world around me and the work that I do," Oelrich says. "My partner and I also have a growing army of nephews and nieces, and I wanted to make sure they were inspired to read. It was a such a big part of my life growing up."
Many may recognize Oelrich's name; he's a well-respected leader in the community's fight against homelessness, serving as executive director of Priority Spokane and working as a private nonprofit consultant, among numerous other projects.
In between those duties, Oelrich began building Spokane End, debuting it to the public in late summer with the launch of the Spokane Hobbit House Facebook page.
Although the Hobbit House isn't publicly open to visitors, Oelrich invites curious onlookers and fellow fans to stop by and view it from his dead-end street. His only requests are to stay behind the gate, respect his neighbors' peace and privacy and to sign the guestbook, if you'd like. There's also a LOTR-themed geocache nearby.
Even without a glimpse inside the charming space that's filled with Tolkien-inspired decor and references to moments in the books and films, visitors can enjoy many other nods to Middle Earth in the lush garden outside Spokane End's round red door, and atop its earth-covered roof. At the fence, Oelrich posted a scavenger hunt list of items around the house to find, including "the face of an Ent, Smaug the dragon and the Brown Wizard Radagast."
An apt opportunity to see Spokane End in person is coming near the end of October (see details below) when Oelrich and his neighbors host a Halloween celebration and book drive benefiting foster kids served by Embrace Washington. Families are asked to bring donations of new and gently used books for kids ranging from babies to eighth grade. There'll also be a petting zoo, LOTR cosplayers and treat sales to support Spokane Sidewalk Games, another of Oelrich's nonprofit ventures.
Beyond the pure joy of its marvelous whimsy, Oelrich hopes visitors to Spokane End also take away a lasting message that's stayed with him since reading Tolkien's books as a child: Hope.
"On the fence I have a little saying: 'Remember it was a hobbit so very small who did big things and saved them all.' … This is my reminder that there is hope and we can get ahead of obstacles, and I hope that is a reminder not just for me, but for our community as well." ♦