Arachni-Dermic Arts
Arachni-Dermic Arts
Spokane artist CarLy Haney creates gothic-inspired centerpieces from one of nature's most misunderstood creatures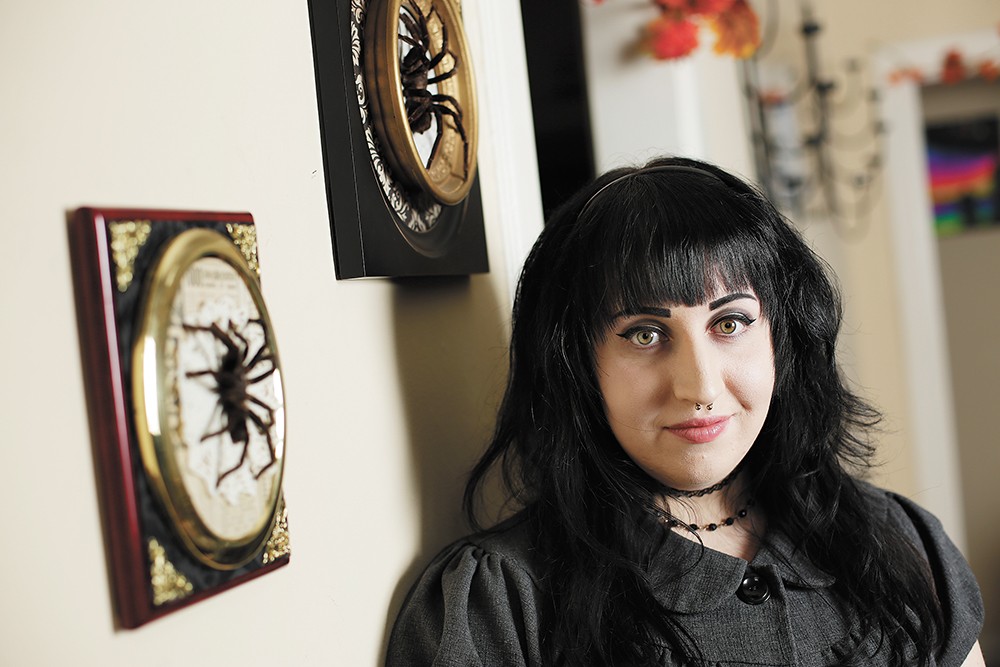 Halfway up CarLy Haney's cozy living room wall, "Nikkoli" perches in a frozen pose. Stretching out from a 2-inch-long abdomen, his spindly legs delicately rest atop an eggshell-white crocheted doily inside a deep mahogany frame.
The large Nephila spider has been dead for who knows how long, but now it rests in peace as a prized specimen, joined in a display here by two of its macabre brethren, a pair of equally massive and magnificent hair-covered tarantulae.
While certainly not everyone's first choice of home décor, the statement-making specimens are not without a niche following, from both faraway and local collectors. Haney estimates she's made and sold nearly 60 of the taxidermied mounts since she began back in 2014. Even modest arachnophobes, who may shudder as they compliment Haney on her lack of fear and eye for detail, often appreciate seeing these natural wonders of the animal kingdom up close.
This story received third place in the 2018 Association of Alternative Newsmedia (AAN) Awards in the category of Arts Feature, circulation of 40,000 and over.