Ascending Artist: Brian Deemy
Ascending Artist: Brian Deemy
A young photographer pushes his creative limits by turning to antiquated photographic processes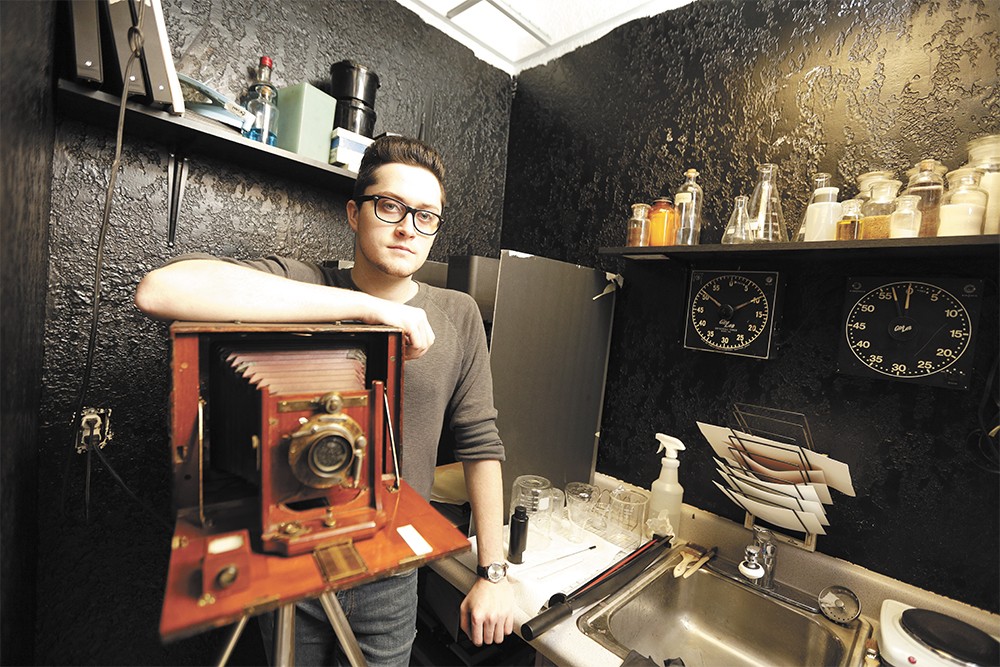 It only took a pinprick to summon the ballooning ruby droplets from his fingertip.
Human blood may be an unusual choice for the sake of creativity, yet artists across history have used it in their work. Inside a closet-sized darkroom, 23-year-old photographer and Spokane transplant Brian Deemy lets a minute volume of his own blood pool into a small glass bowl. Diluted with chemicals, these cells and platelets are then used to pigment a self-portrait. The resulting print of the artist's bespectacled face is tinted by a ghostly pink-orange hue.
Deemy is on a perpetual quest to push boundaries in his chosen medium, specifically alternative and experimental photography processes that typically don't involve any digital techniques.
"I always try and have at least two sides to my projects," Deemy says. "I can't not have this intrinsic commentary on the process in my work. For the general public, they're not going to catch that, but it's important to have another side of the image beyond the subject matter depicted, because [each photograph is] so labor-intensive."
In the earliest days of photography during the 1840s, a process combining the chemical substances potassium bichromate and gum arabic to print images from a negative allowed photographers to add any type of pigmentation. In Deemy's newest project — his senior thesis for a bachelor's degree in fine art photography that he expects to receive from the Academy of Art University in May — that color comes from human blood. The project is in experimentation phase now, with eventual plans to invite others to sit for a series of portraits, each subject contributing their own blood to tint their image.