Channeling Bob Vila while bringing our 1947 home's kitchen cabinets back to their original glory
Scrolling through my Instagram feed, I always pause on a satisfying before/after DIY home project, often finding both the inspiration and confidence to tackle my next home refresh.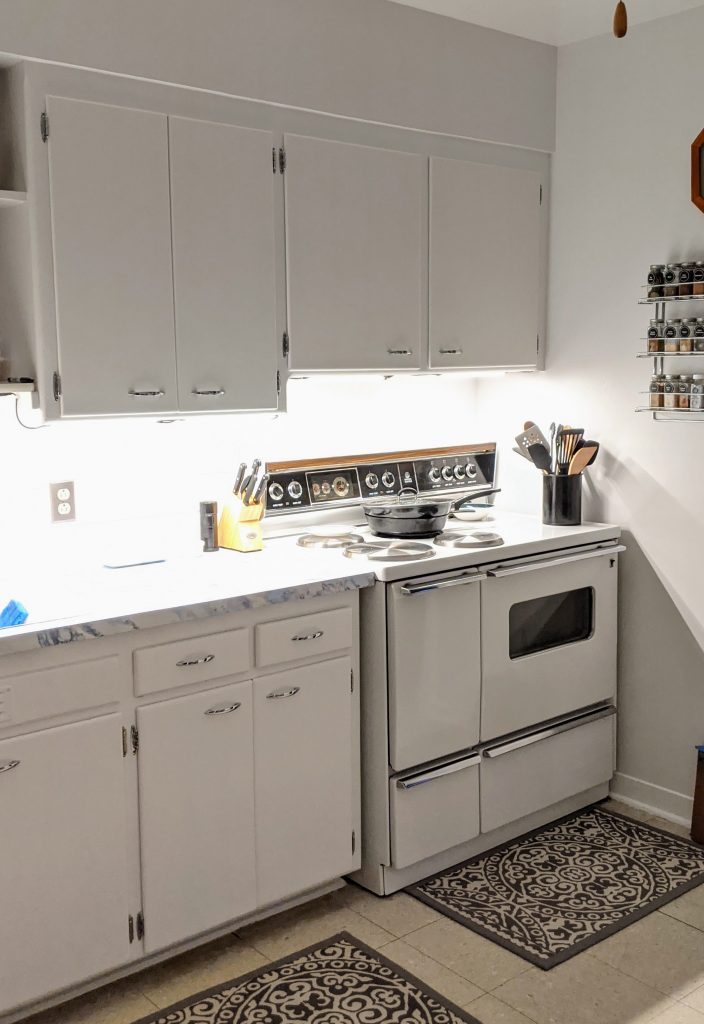 While many of the home decor and DIY accounts I follow are run by women like me — savvy do-it-yourselfers on a budget, often turning to thrifting and repurposing before buying new — a recent project I undertook got me deeply thinking about how unsustainable the constant pressure to give our spaces the HGTV treatment can be.
While experts say renovating is more eco-friendly than tearing down an existing home or building new (I found little out there on the impact of more frequent remodels), what if we viewed home updates more from a historic preservation perspective? We might not agree that every decade of home design trends deserves to be showcased with pride (ahem, the 1980s-1990s…), yet homes from the 1960s and back with original features intact remain desirable and livable pieces of history.
It's with this mindset I recently decided to tackle the arduous (and long overdue) task of repainting our cozy, 1947-built rancher's kitchen. You should know that pretty much everything in the space is original to the home: the cabinets, enameled cast iron sink, asbestos floor tiles, lack of a dishwasher (or space for one), pale blue, faux-marble formica countertops and the teeny-tiny square footage.
Panting the walls and baseboards (also original) was easy enough, and I did that first. The cabinets and drawer fronts, however, had me stumped. Not feeling confident using (or wanting to deal with the mess of) a paint sprayer, I instead opted for the good old-fashioned way: a thorough prep, good paintbrush and some self-leveling cabinet paint. For the color, a fresh, clean white — timeless and bright — to match the walls. At some past point, the cabinets were a soft, cornflower blue, but most recently a dingy, chipped off white.
During the many painstaking hours I spent in the basement brushing on coat after coat, I heard in my head the confident, calm voice of America's original home improvement expert Bob Vila, from his This Old House-on-PBS days, guiding me. Our home might not be a colonial masterpiece, but to heck if I wasn't going to restore these 1940s cabinets to their former glory!
Vila's website is actually an excellent resource I turn to for solid advice on common old house issues, including how to make the original chrome-plated cabinet hardware sparkle and shine (equal parts vinegar and hot water).
Shine, they now do, and so does the rest of our tiny, vintage kitchen now that its authentic retro character has been so lovingly and painstakingly restored. ♦