Take a Gander
Take a Gander
Spokane's Gander and Ryegrass invites diners to slow down and savor with a multi-course menu and comfortable setting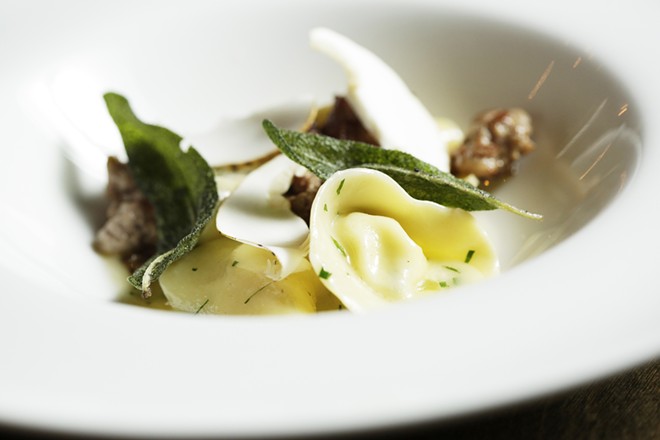 From the Inland Northwest to Florence, Italy, and then across the Cascades and back, chef Peter Froese has cooked at restaurants near and far for the past decade and a half.
Now, he's finally home. Inside a prime downtown Spokane spot best known as the former home of Santé Restaurant and Charcuterie, the self-trained chef recently debuted his long-aspired inaugural restaurant, Gander and Ryegrass, to significant local anticipation.
Described by Froese as "Italian-inspired long-course meals," Gander and Ryegrass is a carefully executed yet approachable take on traditional European fine dining. Its opening menu the first weekend of November featured a three-course meal for $45 per person with a handful of choices per course, and optional drink pairings for an additional $40.
Course one was a chicory apple salad with toasted hazelnuts or beef crudo with beets. Next came the pasta course: pappardelle with pork shoulder, tortelloni with ricotta and Calabrian chili sausage or risotto with charred radicchio and Taleggio cheese. For the main course, duck breast or strip loin with roasted vegetables.
In addition to their course selections, guests are treated to a chef's choice amuse bouche bite, a plate of bread and butter before pasta, and a palate-cleansing intermezzo before entree service.
Gander and Ryegrass's "marathon" dinner option, at $75 per person, meanwhile, consists of 10 to 12 individually coursed or table-shared portions prepared at the chef's whim, with some overlap on the three-course menu.
Pasta is made fresh daily, and Froese is maintaining Santé's legacy of whole-animal butchery.
Diners can expect to see Gander and Ryegrass's menu in a state of constant evolution due to seasonality and creativity. Currently, Froese says he's about halfway to the total number of dishes he'd like to offer per course.
"I don't want to show up every day and cook the same thing over and over," he says. "I want to find things that are exciting to me, and sometimes that's pulling great produce out of the garden or earth somewhere… I also don't want to get stuck in a rut."
While the chef says he'll eventually add a la carte pricing to the menu, he plans for the multicourse dining experience to be Gander and Ryegrass's focus. A separate bar menu, meanwhile, features a handful of snack-sized plates, like smoked nuts and lamb ribs, for $3-$9.
Besides offering diners a chance to sample many areas of the menu, the format is also beneficial for the chef and his kitchen staff, who can better pace cooking times and service.
"One of my favorite ways to eat is when you sit down for long periods of time and you start digging deeper into your history and building memories with the people you're with, and you tell stories you forgot about because you've been there so long, for three to four hours," he explains. "We're going to do our darndest to bring that to this dining room."
When asked about the origin of his restaurant's name, Froese's answer is simple: He liked the pairing of the two words. Later, however, he realized how the name choice could be "retrofitted" to reflect his personal culinary philosophy and what he hopes diners experience at Gander and Ryegrass.
"Ryegrass is something incredibly normal and down to earth. It's your lawn. It's the basics," he explains. "Gander is something that catches your eye, or maybe is related to geese, which is kind of a specialty thing. We can move forward with something incredible and exquisite and exciting, but never losing the plot, which is dinner. You're here to eat, and we're going to have as much fun as we can in the kitchen."
While the opportunity to open his first restaurant inside arose suddenly, after Spokane chef and restaurateur Jeremy Hansen departed this summer for an opportunity in Philadelphia, Froese had been brainstorming concepts and menus long before.
"There was a morning that Jeremy called me and said 'I'm leaving in 30 days, do you want my restaurant?'" Froese recalls. "It took me three weeks to be like, 'OK, let's do this.'"
Froese and his family had recently moved back to Spokane after several years in Seattle, where he worked for restaurant mogul Ethan Stowell and at the esteemed Italian eatery Altura. For the latter, he was both butcher and pasta chef, roles that served as major inspiration for Gander and Ryegrass. His resume also includes stints at Ruins, Central Food, Mizuna, Santé and Latah Bistro.
"I've been writing menus forever, even before I was cooking," he continues. "Over the summer we did a few pop-ups… but [the menu] needed and will continue to need development. That is how I see the menus."
Inside the space, which Hansen had briefly rebranded as Smoke & Mirrors Saloon, gone are the red velvet curtains and an Old West-inspired back bar. The former Butcher Bar space is still undergoing renovations to expand dining room seating, and to house a new built-in wine and beer cellar.
Froese also plans to rework the bar area early next year, yet most of the restaurant's layout inside the historic Liberty Building should feel familiar to Santé regulars. Come the arrival of patio season next year, Froese plans to add lunch service.
Behind the bar, bartender Justin Helm has crafted a concise menu of classics and traditionally inspired house cocktails. The restaurant is also focusing on stocking high-end and rare whiskeys on shelving reaching to the space's high ceiling.
"[Justin's] working on a house Campari, and we had to order an incredible amount of rare things I'd never heard of, to be quite honest," Froese reflects. "He's really going to work at pushing our bar program somewhere we're constantly excited about."
It's evident that excitement and creativity are driving themes at Gander and Ryegrass, even if, as Froese says, it all begins with one simple dish.
"We'll have as much fun as we can without losing the fact that it's dinner, and pasta does that very well. It grounds you, and you can put as much crazy stuff on it as you want, but at the end of the day, it's pasta." ♦